The Importance of Security in any Venture
Without security in our roles and relationships, we cannot achieve happiness or greatness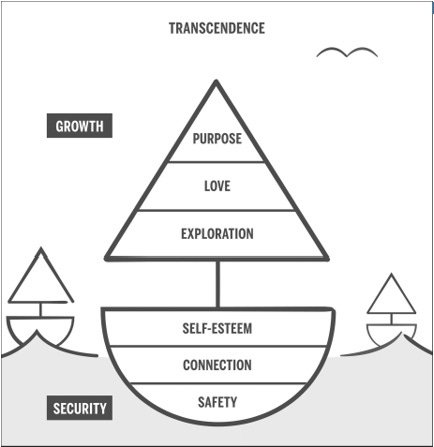 Note: My thanks to the old and new friends that have subscribed to me here on Substack. I've been writing online and offline for 15 years now and it's always fun to experiment with a new platform.
While we've been working in "stealth mode" on our new company, Hearty, for several months, this week we opened up the curtain a bit. The main reason we're sharing now is that we've been asked to tell the success story of our last company, Ahalogy—and that naturally leads to "what's next?" You can find a fun interview I did with Blake Smith here. In the process of reflecting and sharing what we learned, I think I've uncovered a special key to success: Security.
I don't mean "security" in terms of protection from hackers, but rather in personal security and comfort in what you're working on and who you're working with.
Security with Comrades
In our Hearty slack group last week someone shared this classic startup meme: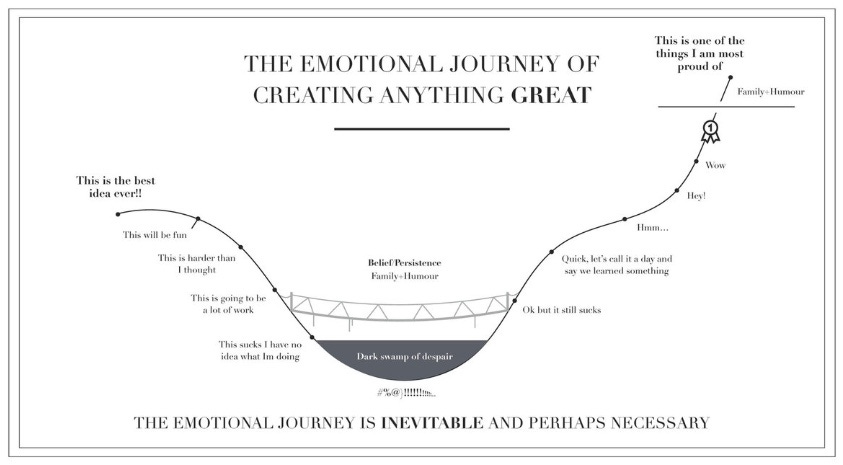 I sat back and thought about our Ahalogy journey and the time when we faced our own Dark Swamp of Despair. It happened not long after my co-founder left, our business was wildly unprofitable, and we had to reduce the team from 55 people down to 30—with backup plans to go as low as 5.
While it was heartbreaking saying goodbye to our close friends and colleagues, when I came into work a day later I felt like a weight had been removed from my shoulders. We had finally, truly realized the problem, built a plan and had complete trust in our remaining team to work together to survive. As Ryan commented:
"We were both pretty zen about the whole thing. I also don't think I ever doubted that we'd figure something out."
I remarked that Security was a feeling that brought many elements together back then:
Security of complete, shared openness and trust in the people you're working with.

Security from coming up with a plan, and a backup plan, and a backup-backup plan.

Security in knowing that we gave it our best effort, learned a ton and had fun either way, and we'd find something else productive to do if this company dies.
Days after this discussion I came upon the book, Transcend. The author, Scott Barry Kaufman, shares an update of Maslow's Hierarchy of Needs. Rather than presenting a pyramid of static needs, Kaufman introduces a sailboat metaphor that I find infinitely more useful. Like a boat at sea, we need security in the hull before we can think about where to go in our lives. The following examples of Security are leaks in the ship that can dominate our thoughts and prevent any real progress:
Safety - the health of ourselves and family, and ability to pay the bills

Connection - people around us who accept and like us, and mutual trust

Self-Esteem - we are realistic about and comfortable with who we are
We all face threats to security along these lines as we go through life. Sometimes it comes in an immediate shock that that upends our world; say, a rush to the hospital and days of scary tests, or when a close friend suddenly betrays you. Such situations send us reeling as we struggle to deal with a new life.
But most often our issues are "slow leaks" that we ignore and brush aside. Think of the relationship issues with a parent that nags in the corner of our minds, or when the company you work at reassures you that layoffs won't happen as it continues to miss its financial goals.
Whether the leaks are slow or fast, we must realize that they are holding us back from being our best selves. We must take responsibility for fixing and preventing the leaks that distract us. It might mean reducing expenses and increasing savings for a rainy day, or sticking to that healthier diet. In relationships, we must directly address issues or remove negative people in our lives—while acknowledging that we cannot change them
Security at Scale: The High Performance Organization
Each one of us is a "boat" that we need to secure before we can grow, but there is a bigger opportunity to pull individual co-workers into a common vessel where greatness can happen. The more I've thought about this concept of Security, the more I believe it meshes perfectly with what I've come to see as the keys to developing a High Performance Organization.
The word "culture" is often used to stand in for the general feel of "how things work here", but there's got to be conscious choice and strategy to make and maintain it. The following are four elements that came together for us—interestingly I used the ship metaphor this years ago!
Vision - Where are we going as a company? What's the endgame? We need security in knowing what direction the ship is heading in. Knowing this, we'll all steer accordingly.

Ownership - Give people responsibility and accountability for their job on the ship. We crave security in knowing that we can manage our time, tasks and priorities—rather than waiting to be told what to do next.

Transparency - Provide input and understanding regarding why we're making choices along the journey. We get security from knowing the "why".

Values - The people working side-by-side share common beliefs about how we should be working together. Our crew is diverse, but we are secure in the knowledge that we must treat each other consistently well. Violators walk the plank.
(For a little more on the above, check out this segment in Blake Smith's interview series)
Boy, does your company perform when you have these pieces in place! It's literally the breathless excitement of being on a boat when a gust of wind fills the sails. You're winning half of your sales opportunities, quadrupling new clients without dropping a ball, seeing and addressing problems without conflict, lapping your competition, and smiling at each other the entire time.
Hearty as an Enabler of Security
Aside from serving as a natural extension of the sailing metaphor, our hope with Hearty is to help individuals and organizations achieve breakthrough levels of success by aiding and encouraging feelings of security. As I warned before and will again, we're still ultra-early in building our company, but there are a few ways we aim to help:
First, we believe that firmly establishing and scaling the power of positive recommendations among co-workers can give people security in the knowledge that their good work will help them prosper. Studies like this and this confirm that strong relationships with co-workers are much more critical in finding a job than weak connections. Whether you're looking for a job, needing to hire, or searching for a vendor or client, we can help make powerful connections much more visible and actionable. If you've built a strong reputation, it will work a lot harder for you through Hearty.
Second, we are elevating the security that people feel from valued relationships with the comrades they've done great work with. Each recommendation we give or receive is a boost of confidence that we should be proud of. Looking back on my list of over 3,800 LinkedIn connections, I feel bad that so many people that I have personal, amazing experiences with are all lumped together with people I met at a conference 10 years ago. Now with Hearty I can serve as a portable "reference for life" for the stars who have supported me, whether we still keep closely in touch or not. There's no better feeling than helping great people discover each other, and I can't wait to scale our solution.
Finally, my hope is that we can help shift digital "connections" much more toward true relationships. Social media like Facebook, Instagram, Twitter and LinkedIn have mainly encouraged us to link with many people very lightly. LinkedIn even makes it easy to send messages by pre-loading responses into its messaging app—giving us the tease of real relationships that are actually hollow. No wonder studies show social media use actually hurts our happiness and life satisfaction. We desire true human connections to feel that we matter and are making a difference. Weak social media connections and pre-written responses—aimed at driving the platforms' interruptive business models—leave us feeling empty in the end. I want Hearty to help us spend 80% of our time with the 20% of connections that give us security from knowing that we've earned true respect and appreciation from other people.
We all want to feel that we have positively impacted others' lives, and that there are people standing by to help us when we fall. A few years ago my father was diagnosed with a terminal brain tumor. During his final few months of life he was able to reconnect with people that he worked closely with over the course of his career. He got to re-live past glories and hear them describe how he make a real, positive impact on their careers and lives. Years later I sometimes receive notes from them, like the message that arrived out of the blue earlier this month:
"Hey, Bob. I was a friend and colleague of your Dad's back in the day. Spent hours dissecting the world with him…so many great memories."
My Dad slipped into the next realm secure in the knowledge that he positively impacted the lives of other people.
Overall, establishing personal security for ourselves and within our companies can unlock amazing growth along any line you care to define it. It all starts with taking a step back and reflecting on your own life and the situations when you did and did not feel secure—and why. If you're like me, this takes constant maintenance, even when you feel on top of the world. Below are a few books that I've found particularly helpful. Bon voyage!